Considered to be the heart and soul of the archipelagic country of Philippines, Manila is the capital city that offers plenty of splendid views for all kinds of tourists. From museums, and churches to parks and shopping malls, this stunning city will sweep you off your feet with its fabulous location on the island of Luzon. If you're planning to visit Manila in December, then rest assured this guide will surely help you out for a fun itinerary.
So, while you sit back and relax, take a look to know what awaits you in this gorgeous land that has it all!
Best Time To Visit Manila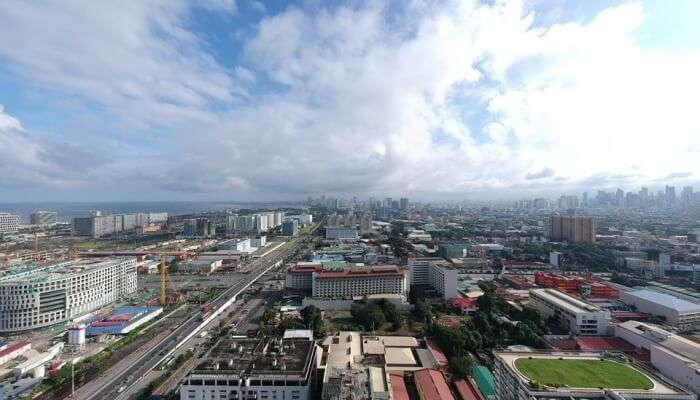 Image Source
Although you can visit this city throughout the year, an ideal time to explore this place would be around the dry season from November till April. The area witnesses a high level of humidity and therefore, traveling around the cooler months leads to a pleasant experience. Despite a soothing weather, it is also advised that you carry a small umbrella as well as a full sleeved clothing in case it gets slightly chilly.
8 Best Places To Visit In Manila In December
A long list of experiences await you in this scenic land. So, why wait? Scroll down to know our top picks for your next fabulous holiday experience here!
1. Rizal Park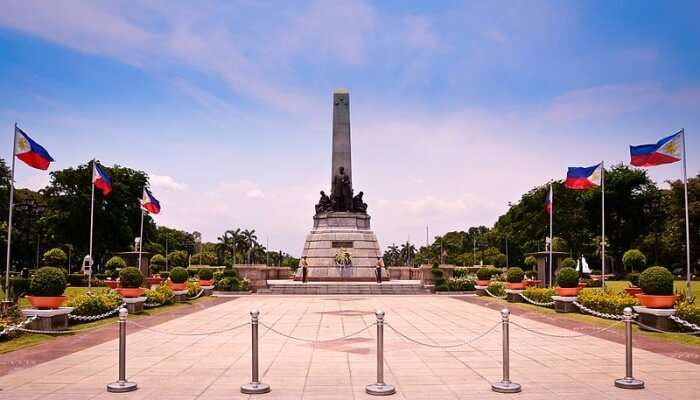 Image Source
The charming Rizal Park in Manila is located on Roxas Boulevard and attracts several visitors throughout the year. One of the main reasons why tourists are keen on visiting this park is because it is one of the largest urban parks in Asia and is crowded on Sundays and national holidays. Named after the famous national hero Jose Rizal, this park is open throughout the week.
Must Read: Manila Nightlife: 4 Must-Visit Nightclubs That'll Evoke The Party Animal In You!
2. Intramuros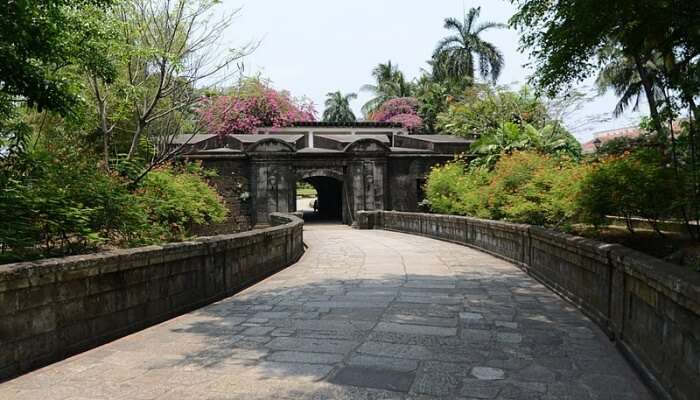 Image Source
A stone citadel spread across 64 hectares of land, is more than a tourist attraction for the locals as it has survived many wars, colonial invasions and natural disasters. It was primarily made to protect the city from invasion when it was under the Spanish rule around the 16th century, however, later it was damaged when the building was recaptured from the Japanese Imperial Army.
Suggested Read: 8 Fascinating Things To Do In Manila To Savor The Best Of Philippines' Culture
3. San Agustin Church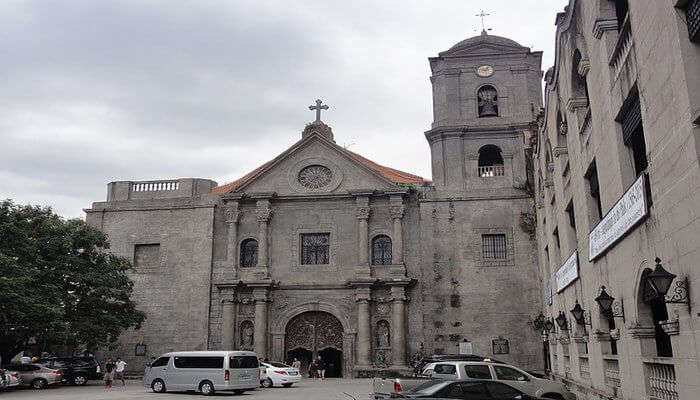 Image Source
One can clearly find similarities between the temples constructed by the Augustinians in Mexico and this beautiful church in Manila. This magnificent structure was started in 1587 but got completed only in 1604. Located inside the stunning historic city of Manila, this Roman Catholic church was built during the Spanish colonial period and has also been listed as a World Heritage Site by UNESCO.
Suggested Read: 25 Places To Visit In Manila In 2022 For A Weekend Of History, Culture, And Fun
4. Casa Manila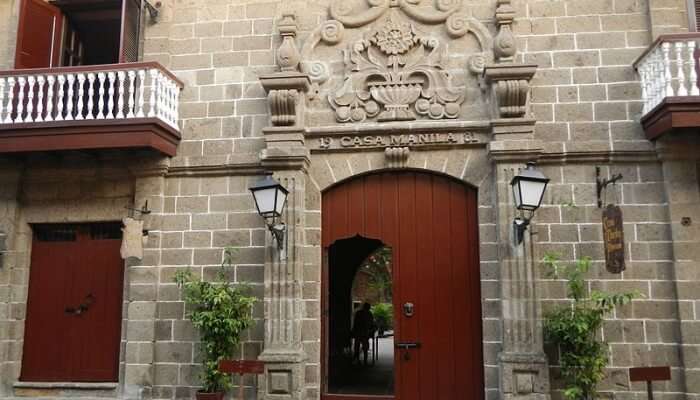 Image Source
The exquisitely grand Casa Manila is a stone-wood built museum and is surrounded by several famous streets such as Urdaneta, Calle Real and Cabildo. If you know about the structure and appearance of San Nicolas House in Calle Jaboneros that used to exist in 1850, this place is an exact replica of that, as some say. Depicting fine Spanish architecture, this Casa is more than what meets the eye.
Suggested Read: Honeymoon In Manila For An Amorous, Ardent, And Doting Affair
5. National Museum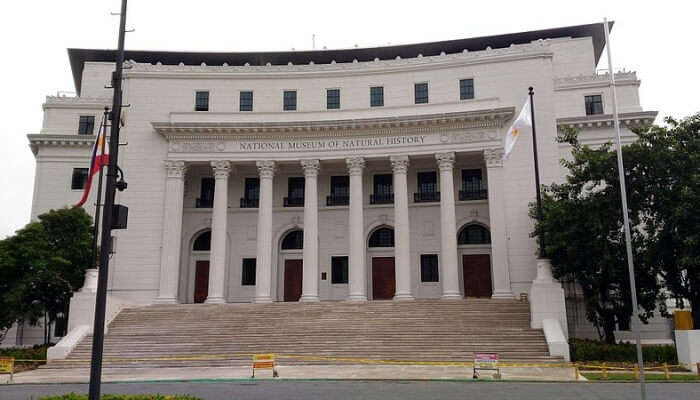 Image Source
One of the most famous museums in the country, the National Museum in Manila organizes several exhibitions relating to history and art. Also featuring some of the most stunning archeological, ethnographic and anthropological artistry, this place is known to preserve a vast number of natural collections that are of great historical significance to the country.
Suggested Read: 10 Temples In Philippines Where You Can Make Up For Past Wrongs
6. Divisoria Market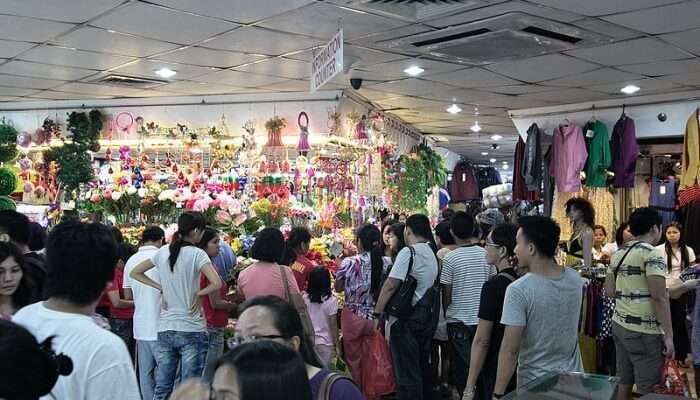 Image Source
This marketplace is a one-stop shopping destination for all kinds of folks, whether you're a tourist or a local. Having some shopping malls also on board, this place is known to have almost everything you need. From clothing, accessories, and toys to fruits, household supplies, and electronics, you'll find all right here in this market. What's more is that this district is also well connected with different parts of the city such as San Nicolas and Tondo streets.
7. Robinsons Place Mall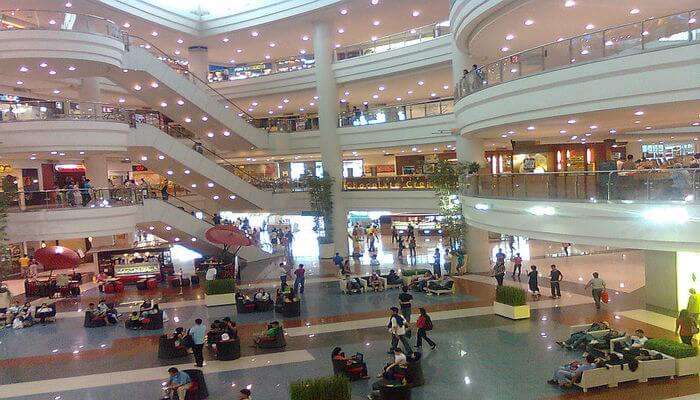 Image Source
Considered to be a hotspot for the adjacent University students, Robinsons Place Mall is the largest mall constructed by John Gokongwei. There are various stores that facilitate the needs of common folks as well as provide a great sight for tourists. Among these are Robinsons supermarket and Robinsons Departmental store. Located right behind the General hospital, this place can be easily accessed from any part of the city.
Suggested Read: 6 Best Museums In Manila That'll Walk You Down The Historical Lane In No Time
8. Manila Bay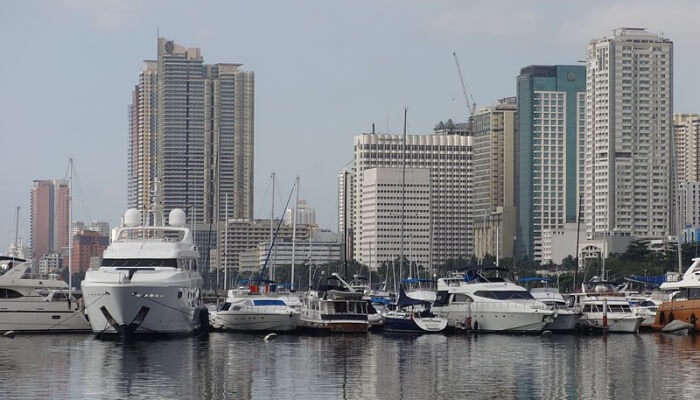 Image Source
Lined with several ships, one can spot the enormous bay in Manila which opens way to other parts for trade and commerce. Holding great commercial importance, this bay is the national port in Philippines and provides a firm connection to other neighbouring countries. You can take a stroll down the beautiful bay around sunset to witness the spectacular view.
Further Read: 5 Best Villas In Philippines That Are Lavish, Luxurious, And Light On Pocket!
Bayside evening walks or a tour down the history lane of this paradise that has an essence of Spanish colonialism evident in the architectural work around the city, what will you choose for your next vacation in Manila? Plan a trip to Philippines for an extraordinary experience this december and don't forget to tag your favorite travel buddies along!
Frequently Asked Questions About Manila In December
What is the weather like in December in the Philippines?
The average daily temperatures during December range from 22°C to 32°C in Palawan, Cebu, Bohol, and the southern regions and from 21°C to 30°C in Luzon and the north. … With favorable weather conditions, it's no surprise that December is a popular time of year to visit Manila, Philippines.
Is December rainy season in Manila?
Yes. December is a dry season. The dry season starts in late November and ends in May. The rainy season starts in June and lasts till October. September and October are often the typhoons season in the Philippines.
What is the coldest month in Manila?
January happens to be the coldest month in Manila with a temperature of 78°F (26°C) with the most daily sunshine hours at 9 in April. May is the hottest month in Manila with an average temperature of 85°F (30°C) and the wettest month is August with an average of 140mm of rain.
Does it snow in Manila Philippines?
Manila does not experience snow. The Philippines is a warm region and does not have a very cold temperature or experience of snow. However, if that happens, it could be a large effect of climate change.
Is Manila safe for tourists?
Like many other countries, the Philippines has pockets where more violence tends to occurs and areas that are generally considered safe. There is an active travel warning for the Philippines, but only for some regions. Most other parts of the nation are generally considered as safe as other places in Southeast Asia.
What is the best time of year to go to Manila, Philippines?
The best time to visit Manila is during the dry seasons that is between November and April, which also sees the highest number of visitors. At this time the country is fully accessible, including its many beautiful islands and more remote areas. Temperatures are high during March and April, so the best time to travel to Manila is during the cooler months of December to February.
People Also Read:
Oman In December Canberra In December Queensland In December
Comments
comments