Nestled between the Caucasus Mountains and Caspian Sea, Azerbaijan is an enchanting country full of beautiful sights. Bursting with intriguing culture, visitors can witness a marvelous combination of Eastern and Western style architecture such as ancient mosques alongside modern skyscrapers. With nine different climate zones in one country there's something for every type of traveler – from adventure lovers to nature enthusiasts! December brings extra cheer with its unique offerings making it a magnificent destination no matter what your vacation dreams may be. Come explore this 'Land Of Fire' while you soak up all that winter has to offer!
Weather In Azerbaijan In Winter
There's no better way to experience winter than in Azerbaijan! In addition to some of the world's most exciting cold-weather activities, you can enjoy snow-laden landscapes and revel in Christmas festivity. Temperatures vary from a cool 3°C up to 18°C, so it feels more like an invigorating chill instead of a deep freeze – perfect for outdoor adventure.
5 Places To Visit In Azerbaijan In Winter
Find out where to go and what to see during your trip to Azerbaijan in winter. Make sure your itinerary is crafted around these locales for a rich holiday experience.
1. Baku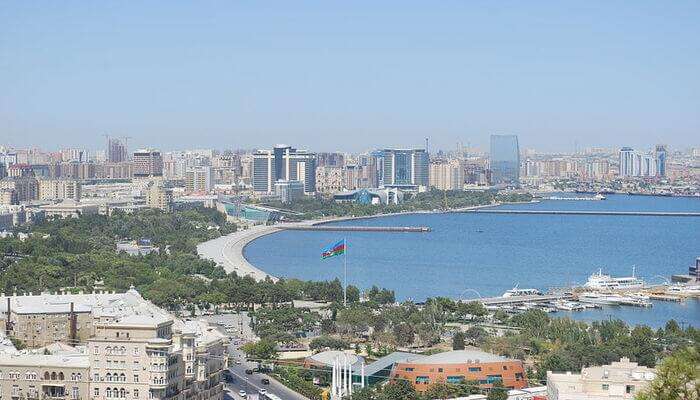 Image Source
Baku, situated along the Caspian Sea, is a dazzling capital city filled with glittering modern skyscrapers and ancient walls that have stood for centuries. At nightfall visitors can admire illuminated wonders like Three Flame Towers which glare like flickering flames in golden dressings of light! Not only are there stunning views to take in but also over 900 artworks preserved by museums as well as spices and cheeses at Teze Bazaar – an unforgettable shopping haven. For a magical experience near the sea don't forget Yanar Dağ; burning continuously against hills on Absheron Peninsula – truly something worth seeing when visiting this remarkable port city. Travel tip: Make sure you stay for awhile to get great value out of your trip to Azerbaijan's captivating cultural hub!
Ideal for: Sightseeing and photographyTravel Tip: Baku is one of the cheapest cities in Azerbaijan
Circle Trip To Azerbaijan And Georgia: Discover Best Places And More!
2. Ganja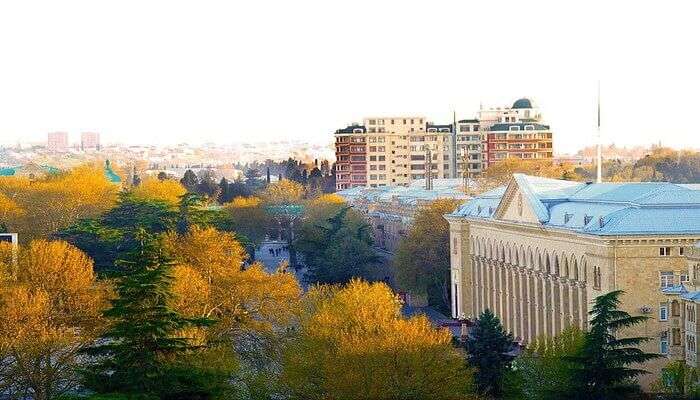 Image Source
Ganja is a city of incredible sights and deep-rooted traditions in Azerbaijan. A visit to the city will transport you back in time, as it holds immense cultural heritage from centuries ago that still lives on today – witnessed through vibrant festivities like Novruz Festival celebrations. The area around Ganja presents a breathtaking landscape surrounded by lush forests, vineyards, riverside views and jagged mountain peaks glinting off panoramic lakes; an awe-inspiring sight fit for any traveler's bucket list!
Ganja, Azerbaijan offers a unique holiday experience with its "Bottle House" – an architectural marvel made of 50 thousand glass bottles! While there you can explore the exquisite Tomb of Nizami and Juma Mosque. But that's not all; savour local cuisine at Ganja market for a truly authentic taste of this amazing city.
7 Breathtaking Beaches In Azerbaijan For A Sunkissed Vacation In 2022!
3. Sheki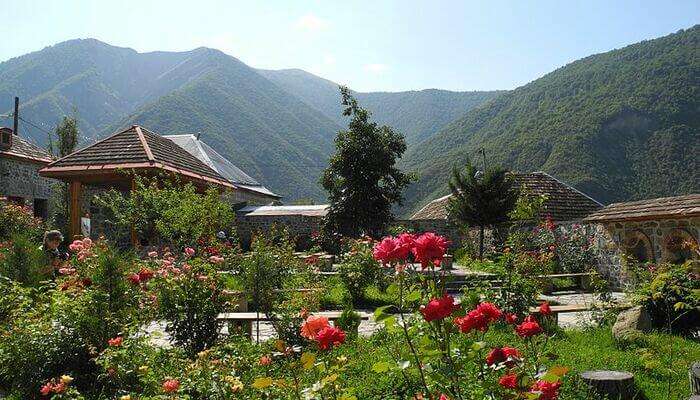 Image Source
Nestled in the foothills of majestic mountains and steeped in ancient culture, Sheki is an oasis of beauty. From delectable Baklava delicacies to handmade souvenirs crafted with care by local artisans, this city offers no shortage attractions for travelers seeking adventure or serenity. Experience all that this beautiful destination has to offer – a friendly welcome and warm hospitality await!
Take a journey to Sheki and explore the legendary Khans' Palace! From ancient fortresses to royal gardens, stroll through this stunning city and be amazed by its intricate murals, majestic stained glassworks, and picturesque landscape. Don't miss out on making memories here in historic Sheki!
Travel Tip: Take a taxi to conveniently reach Sheki.Things to Do: Horse riding, Hamam or public bathing, and Hiking
Azerbaijan Travel Tips: 10 Best Tips To Become The Master Of Travelers!
4. Lankaran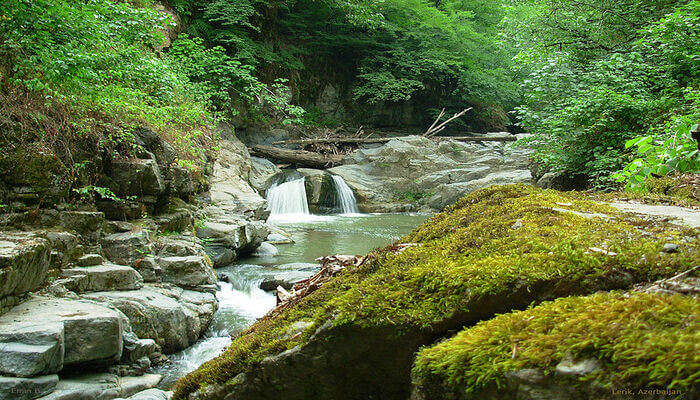 Image Source
Lankaran is a breathtaking destination, with its shimmering Caspian Sea coastline and verdant landscape. Visitors marvel at the city's wealth of ancient monuments, many steeped in historical significance due to their strategic location throughout the ages. Its timeless beauty draws them back again and again!
Lankaan is a historical treasure trove, full of wonders that draw tourists from near and far! Explore the majestic Maiak Tower featuring breathtaking views or discover mysterious Yanar Bulag – an ancient spring said to light up on its own. Other popular sites include Tomb of Sayyid Khalifa, Gizil Agaj National Reserve and Old Prison & Lighthouse for your cultural enrichment.
Ideal for: Photography
8 Magnificent Places To Visit In Azerbaijan One Must Definitely Visit While In Russia!
5. Khachmaz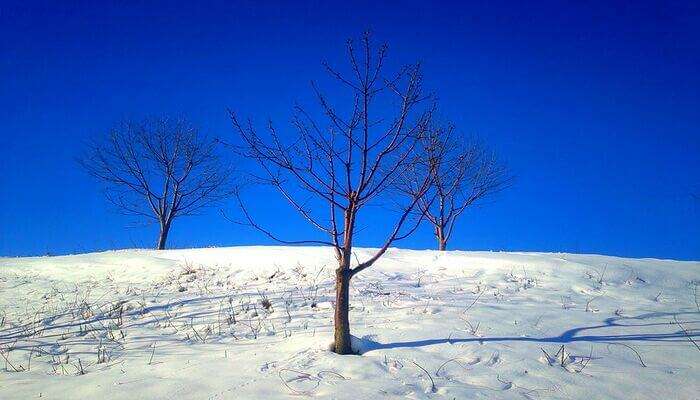 Image Source
Khachmaz may not have the same prominence as some of Azerbaijan's other cities, but that doesn't mean it isn't worth checking out; in fact, Khachmaz is a must-visit destination during your trip to Azerbaijan this December. The city offers an impressive array of amazing experiences: pamper yourself at luxurious resorts and spas while shopping around stylish centers and savoring extraordinary culinary delights!
Summer In Azerbaijan: A Handy Guide For Traveler's To Enjoy The Heritage Of The Country!
6 Things To Do In Azerbaijan In Winter
Now that you know of all the fabulous places to see in Azerbaijan, let us proceed to the activities that this destination is famous for.
1. Skiing
Escape to the breathtaking Shahdag ski resort, nestled in Azerbaijan's majestic Greater Caucasus Mountains. Take your skiing skills up a notch and challenge yourself on one of their 17 kilometers long tracks with varying levels of difficulty. Need some help getting started? Rest assured that the helpful staff at this awe-inspiring destination will be more than happy to assist you! And if you don't have any equipment yet – not to worry; just head over to the Ski Shop for top quality helmets, skis or snowboards so that nothing stands between you and an unforgettable experience atop these glorious peaks.
Best Hotels to Stay: Zirve Hotel, Gaya Residence, Shahdag Hotel & Spa, Pik Palace, and Park Chalet
Shopping In Azerbaijan: What To Buy & Where To Shop In The Land Of Fire
2. Zip Lining
Ready for an adrenaline rush? Explore Azerbaijan from a different perspective and experience the thrilling Zip Lining activity! Fly through sky-high, gorgeous mountains at speeds of up to 25 km/hour with an experienced supervisor so you can enjoy your ride safely. Capture amazing bird's eye views of snow capped peaks during this unique adventure – make sure it is part of your itinerary when visiting in wintertime!
Tip: Wear something comfortable or the harness around your waist and thigh area would hurt.
5 Exciting Festivals In Azerbaijan That Will Add All Those Festive Vibes To Your Trip
4. Quad Biking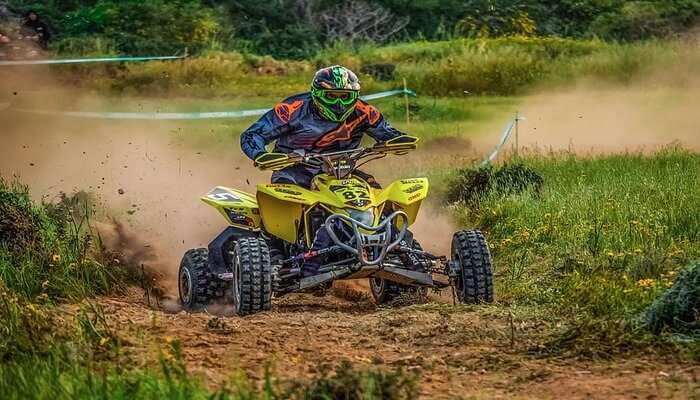 Image Source
Have you ever wanted to explore one of the world's most captivating natural wonders? Quad biking through Azerbaijan's Caucasus Mountains is an unforgettable experience! Test your skills and courage as you take on the power of a four-wheeled machine. But don't worry – all riders are provided with helmets for maximum safety, so they can focus on taking in their surroundings while conquering this thrilling journey. As winter approaches, join countless adventure lovers who make quad biking a top seasonal activity – reveling in nature's breathtaking beauty along the way. Experience it yourself and uncover why this sport has become increasingly popular among tourists everywhere!
Tip: If you are a beginner, then make sure you choose the right vehicle that suits your level of strength.
7 Best National Parks In Azerbaijan To Witness Its Wildlife
5. Snow Tubing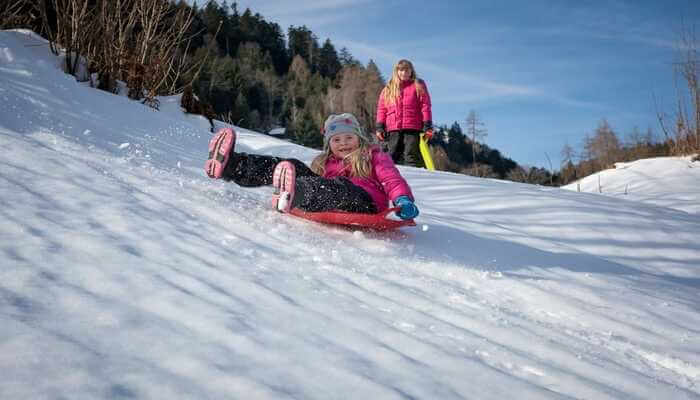 Image Source
Enjoy the thrill of sliding down a snowy hill without any need for special gear or guidance! Snow tubing is an effortless and entertaining way to experience winter, perfect for travelers with family both young and old. Forget about all your worries as you ride on top of the soft white snow – it's sure to be a great time!
Hiking In Azerbaijan In 2022: Top 6 Hiking Trails In The Majestic Caucasus Mountains!
6. Paragliding
Come experience the thrill of paragliding through picturesque mountains in Azerbaijan! With guidance from professional and certified instructors at Fly Shahdag, you can enjoy a safe and unforgettable journey as you soar through Zaqatala, Gusar. Prepare yourself for an adventure like no other as your instructor takes special care to land smoothly on designated points along Baku-Shemakha highway – all while being outfitted with top quality safety gear such as gloves, helmets and shoes.
7 Things To Do In Azerbaijan you will never forget!
Experience the wonders of Azerbaijan! Unearth the hidden gems and explore unique culture when you plan your trip in the winter. Whether it's with family or friends, this beautiful destination will leave an unforgettable impression on all who visit. Make lasting memories while uncovering delightful treasures as only found in Azerbaijan!
Disclaimer: Yada-Go.com claims no credit for images featured on our blog site unless otherwise noted. All visual content is copyrighted to its respectful owners. We try to link back to original sources whenever possible. If you own the rights to any of the images, and do not wish them to appear on Yada-Go.com, please contact us and they will be promptly removed. We believe in providing proper attribution to the original author, artist or photographer.
Please Note: Any information published by Yada-Go.com in any form of content is not intended to be a substitute for any kind of medical advice, and one must not take any action before consulting a professional medical expert of their own choice.
Frequently Asked Questions About Azerbaijan In Winter
Q: What is the average temperature in Azerbaijan during winter?
A: During the winter months, the average temperature in Azerbaijan typically ranges from 1°C-10°C (33°F – 50°F). The temperatures are usually milder along the coast of the Caspian Sea and colder in the mountainous regions. Snowfall is common throughout the region and usually occurs between November and March.
Q: Is it safe to visit Azerbaijan during the winter?
A: Yes, it is generally safe to travel to Azerbaijan during wintertime. In many parts of Azerbaijan, there are tourists who come to experience all that winter has to offer. There are plenty of activities to enjoy such as skiing, snowtubing, snowmobiling, ice skating and even dog sledding! In addition, Baku offers many cultural experiences including a unique blend of Islamic culture with Soviet architecture which make for an interesting tour.
Q: When does snow usually occur in Baku, Azerbaijan?
A: Snow can typically be seen from November through March in Baku. However, it also varies depending on location within Azerbaijan as snow tends to fall more frequently in higher elevations or mountainous regions. It is not uncommon for areas near or atop mountains like Dizdaru or Bazarduzu to see more than a month of snowfall annually.
Q: Are public transportation options available during winter months?
A: Public transportation options are available all year round in Azerbaijan and remain operational regardless of weather conditions. The main modes of public transport include bus services operated by Azerenerji JSC (Buses and Trolleybuses), Metrosutz buses operating throughout most major cities and cities in rural areas as well as reliable taxi services available 24/7.
Q: Are there any special activities or events that take place in Azerbaijan during the wintertime?
A: Yes! There are several unique activities that take place around this time of year from skiing competitions at Shahdag ski resort conveniently located 2 hours away from Baku – one of Europe's best ski resorts -to horse racing on ice at Goygol Lake which takes place every January! Additionally, festivities like Christmas and New Year's Day are celebrated similarly around other parts of Europe with traditional dishes such as dolma (vine leaves stuffed with rice) and piti (traditional lamb soup).
Q: Does the Caspian Sea freeze over in winters near Baku, Azerbaijan?
A: No! Despite its cold temperatures during Wintertime (-1°C-0°C), waters rarely ever freeze over due to regional currents carrying warmer waters into its depths. As an example – although temperatures dropped to -3°C on December 14th 2019; despite this extreme cold weather event waters never froze over.
Q: How much clothing should I pack if I'm visiting Azerbaijan during December and January?
A: Packing for a trip to Azerbaijan during December/January should include plenty of warm layers such as sweaters, scarves, gloves and hats as well as waterproof shoes/boots since snowfall is quite common throughout these months. Make sure you bring enough clothes since temperatures may drop quickly at night so having warm clothes handy might be necessary when exploring outdoors!
Comments
comments